Sonam About Books
Best Books, Books and Authors, Indian Authors, Book Reviews, Publishers and Promotions
The old man and the Nymph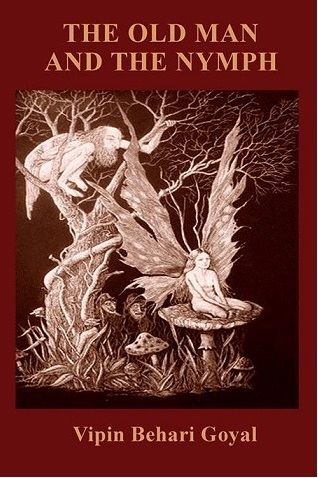 The title itself suggests that it's unusual read.And I was not disappointed also. Three old men are encountered by four Nymphs.
Greek mythology is inspired by Indian Mythology.Scholars have drawn many parities,but that is not the context of the book.
What I think is the origin of the book lies in Indian Philosophy of Samkhya Darshan,which is the one that deals with origin of life,out of six systems of Indian Philosophy.The ultimate cause of universe is Prakrti which itself is causeless.It could be unconscious element or an active force or in the form of the unexpressed.The Nymph of water.cloud,woods are the elements of nature,
Another factor is Purush.It is the subject,the knower and is itself pure consciousness.Its object changes but it does not change.That is the old man.It could be plural.So all the three old man are actually one Purush manifested in plural and are part of same pure consciousness.This was well expressed by author when all the three old men were admitted in the hospital simultaneously.
The evolution of creation takes place through the interplay of energy of Prakarti which is always nascent with the consciousness of the Purush which is eternal and thus old.
The most important factor in creation is intellect ,ego and mind.The ego has three dimensions according to Samkhya.Sattva,Rajasthan,Tamas ie.Light,Enegy and Action.The Nymph represents three ego levels namely Libido,Ego and Super Ego. Mint is libido,Pun is Ego and Mellisa is superego.
The mundane aspect is that old man symbolises death and the Nymph are symbolic of Life.Life hands over the embodiment of consciousness into the hands of death. And that is the cycle that goes on till the knower and the known become one.
There is one socio economic aspect also.The three old men represents upper class (Colonel), middle class( father of Mellisa) and poor or peasant class(Naga).The pure conscious is unaffected by materialism.All the three counterparts are governed by materialism. I say three since Mellisa is rebirth of Lima.
There is brief encounter between Mellisa and Poseidon which I think is important to draw conclusions.
Having written few papers for seminars has always helped me in drawing conclusions,but I appreciate difference of opinion.
The old Man and the Nymph [Paperback]
Vipin Behari Goyal (Author)
Price: 126.00 + 30.00 Delivery charge Eligible for Cash on Delivery. Details
Product Description
About the Book: The old Man and the Nymph The book is based on Greek Mythology which describes four types of nymphs. These are the nymphs of water, clouds, plants and underworld. Incarnated as beautiful nubile girls who were full of passions each of them enticed old man to satisfy their sensual desires. They loved to laugh, dance and had fun in breaking the rules of the society of mortals. What happened when the three of them met with Colonel under the same roof ? One of them had escaped from Colonel in her past birth and had gone underworld. What would she do now? A strange story set in Indian context. About the Author: Vipin Behari Goyal Born (1954) and brought up in Ajmer, Rajasthan, Vipin Behari Goyal did his post-graduation in Botany followed by a degree in Law. After completing his education, he worked for a bank and then joined the Rajasthan Government where he presently works as a financial advisor. His previous work includes a travelogue about Pushkar, Hindi poetry collection and a popular English novel "Tall man small shadow" and "Maya in search of Tantric father."
Product details
Paperback
Publisher: Blackbuck Publication (2014)
Language: English
ISBN-10: 1631026089
ISBN-13: 978-1631026089